More about The Webmaster
Hey , I am from Singapore . I decided to start this website on Wednesday, January 05, 2000 .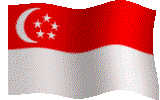 The reason I created this website because
And it is to mark the end of year 1999 .Thank my Lord for you had blessed me greatly in Year 1999 . A prayer listened in the prayer page! And a brand Mew Millennium a head. Hope God help me to be closer to him in new Millennium .

I created this website theme is more on Christianity. Partly Because I feel I could not give much to him . I am not actively involved in my church activities due to my quiet and shy nature , So I guess I decided to dedicate a website for thy. I love creating website , so I decided to do my part by being a Christian website developer. Well , It is not good ,as this is my first time creating a big website .Pals pardon me!
I am not good in communicating verbally to people . I hope through this website , I would able to bring the message of God's love to all web surfer out there . I dun know how to do great website to tell you all of God love . I could just tell you all ! God had been in my life for 9 years . But he really show me his love in every way . I will share more in my testimony.
One is stated on my homepage which I had .My first priority; is to get my diploma . I had been struggling for years for this diploma. And throughout this period it was tough one for me .So I decided for this period I am going to spend to

Click on the logo to find who is JESUS !

I was curious what is dating and courtship and I happen to buy a book on that . I read it during my vacation holidays . And this is when the website is born.
Click on refresh to listen to random music